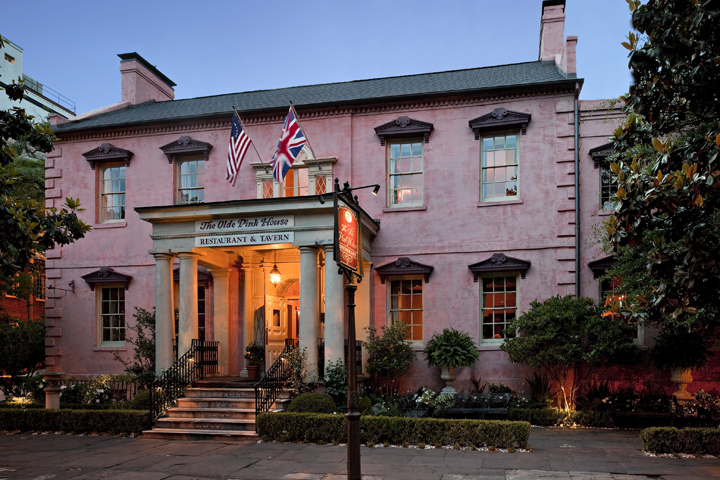 While staying at our historic Savannah Bed and Breakfast, indeed you should enjoy a meal at the Olde Pink House Savannah. This is one of Savannah's finest restaurants and offers an authentic Savannah experience. Dine in a beautiful 18th Century Georgian Mansion. Additionally there is outdoor dining and live entertainment every night. Equally expect to lose yourself in the excellent food and cozy ambience. Moreover its reputation  has made this icon one of the city's most popular restaurants.
An amazing reputation:
USA Today says: "The Southern-influenced cuisine is always flavorful and features a large selection of fish, beef, pork and chicken dishes. Among the standout seafood entrees is the crispy scored flounder with apricot shallot sauce. The "BLT" salad incorporates fried green tomatoes, crispy bacon and black pepper thyme buttermilk dressing. It was featured on the Food Network Show "The Best Thing I Ever Ate." Finally the restaurant's signature praline basket filled with vanilla ice cream and topped with berries. It is the perfect way to end the meal."
Take a look at the menu at the Olde Pink House Savannah here.
The Olde Pink House, one of the city's nicest and most popular fine dining establishments. Basically it stays true to its antebellum roots, offering up an array of uniquely prepared, upscale Southern fare. This Georgian mansion was built in 1771 for James Habersham. He was one of the wealthiest Americans of his time.
The historic atmosphere comes through in the original Georgia pine floors of the tavern, the Venetian chandeliers, and the 18th-century English antiques. A more contemporary dining room at the Olde Pink House Savannah has vintage pine floors and walls. A lovely bar has curvaceous doors that can be flung open on balmy nights. Chiefly expect great service and amazing food. How about a classic chicken potpie with roasted veggies, porcini cream sauce, and a sweet-potato biscuit? Likewise for a more intimate experience, by all means eventually head downstairs to the Planter's Tavern. Indeed that is where the dining area is flanked by two large fireplaces.
Olde Pink House Savannah