Savannah Last Minute Deals

At Foley House Inn, which is a historic bed and breakfast located in downtown Savannah, we're pleased to offer Savannah last minute deals.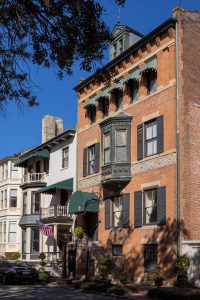 Want to get out of town – for the weekend or a week? Hate planning ahead? Want to book a spur-of-the-moment romantic getaway? Love a good deal, special, or discount on bed and breakfast accommodations?
Call us at 800-647-3708 and ask if there are any discounts available. Many times during the year we offer Savannah Last Minute Deals and we would love to tell you about them. Not always…but often!
Or you can check our specials page here.
With romantic four-poster beds, cozy comforters and some with whirlpool tubs. Most bed & breakfast rooms in Savannah often don't come cheap. If your travel budget is tight, though, here is a way to make our rooms more affordable. Keep in mind that this offer include almost all of our rooms and always includes all of the amenities that all of our full priced rooms offer. And like always, all of our rooms include all of our cuisine such as a full southern cooked-to-order breakfast when paying our Savannah last minute deals rate. Even though you are paying less, you are still getting all we have to offer. This Savannah Last Minute Deals rate MUST be booked on-line or by calling 800-647-3708
We are also happy to set up any tours or restaurant reservations that you require. How about a visit to the Sorrel-Weed House. Maybe you would like to visit one of Savannah's fine restaurants like the Olde Pink House. You will need a reservation for that one.
Please note: The Foley House Inn has 19 bed and breakfast rooms to choose from, some of which have Jacuzzi tubs, and private balconies. We're located at 14 West Hull Street, in Savannah, Georgia.
Savannah Last Minute Deals