Haunted Savannah Bed and breakfast
Savannah is often called the most haunted city in America and the Foley House is a Haunted Savannah Bed and Breakfast. Seems like we are an indisputable part of that ghostly legacy.
The Foley House was originally built in 1896 by Honoria Foley. She was the widow of the wealthy Irish immigrant, Owen Foley. The Foley's original homestead was the first actual Savannah bed & breakfast. She built this new home in order to acquire more living space. The Foley House was constructed over the ashes of a home destroyed by the Great Savannah Fire of 1889. Hence the Foley's beginnings carried an ominous undertone.
Mrs. Foley enjoyed success with her inn for a number of years. In addition to her widowed son, his five children, lived here in peace. However, things began to change in the house during a renovation in 1987, almost a century after the home was built. Construction workers discovered human skeletal remains behind a wall. They unwittingly set loose something that can only be described as otherworldly while just doing their jobs.
Murder At The Foley House
Although the skeleton has never been conclusively identified at this Savannah bed and breakfast, it is believed the bones belong to a boarder. This person stayed at the Foley House in the late 1800s. He was a wealthy exporter was in Savannah on business. Then, one night, he disappeared mysteriously and was never heard from again. Speculation is that he was murdered for his money and consequently secreted away behind the wall to hide the crime. Did he at last resurface?
Our haunted Savannah Bed and breakfast staff often hear odd stories. One of a man in a top hat walking around the garden late at night. Other times guests report hearing strange noises. They feel a rush of air without a reasonable cause. Therefore could it be Wally? (The name we've given our spirit "guest." His skeleton was discovered in a wall.)
Most noteworthy, our haunted Savannah bed and breakfast is featured on many of the ghost tours in Savannah. Hence if you're interested in seeing a different side of Savannah's nightlife during your stay with us let us know. You'll probably leave Savannah with your own eerie first-hand account.
Savannah, Georgia is considered by many to be the top haunted destination in the USA. Consequently nearly every building in the Historic District has a ghost story associated with it. But among all that haunted activity, which locations are most haunted? What places report the most brushes with ghosts? Let us help you discover it all.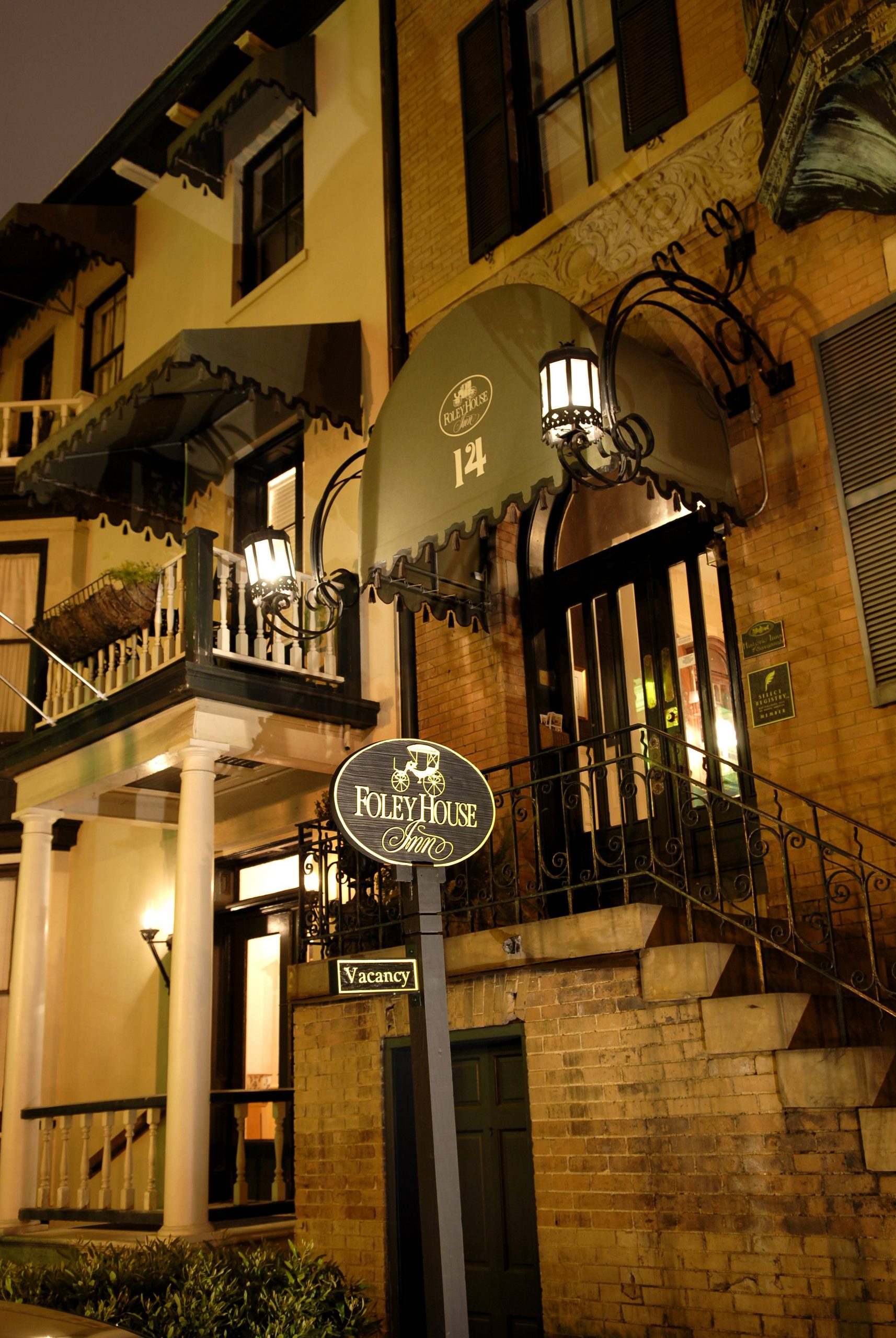 Hearse Ghost Tours offers ghost hunters the unique opportunity to tour Savannah's strangest sites via funeral hearse. It's that special touch of eerie detail that sets this tour apart from the rest. Traverse the streets of the Historic and Victorian Districts in style as the informative guides share shocking stories of Savannah's morbid past.
If you're an real fan of ghostly investigation shows, the Gribble House Paranormal Experience is the one for you. This 90-minute nightly tour puts you in the driver's seat. You will be equipped with the latest technology therefor you can lead your own investigation. Work your way through the warehouse that stands where the actual Gribble House once was. A triple murder occurred in the house in 1909. Most noteworthy the victims' spirits still linger on the site.
Savannah has a graceful elegance full of historic charm. This is where you will find friendly locals, delicious southern comfort food and comfortable Georgia weather. Peer behind the curtains of Spanish moss and you'll find a veritable ghost town. Whether on the slanted sidewalks, the hallways of a haunted bed-and-breakfast, or in Savannah's spirited cemetery, the supernatural is all around.
Haunted Savannah Bed And Breakfast